Overview
Orthodontics may be the oldest dental specialty. But despite its age, the discipline remains a pioneer in the latest digital dental technology.
As a field focused on malocclusions, orthodontics since its earliest inception, has relied heavily on radiograph imaging. In order to fit brackets correctly on adult and children patients' teeth (and ultimately thread those brackets with wire for teeth straightening and re-alignment) it's essential orthodontists have the most accurate understanding of a patient's mouth and how their teeth align.
While physical impressions of a patient's mouth and X-ray technology have allowed orthodontics to mature into a $13 billion industry —some 4 million Americans have braces today and 25% are adults — dental science continues pushing the limits of what's possible.
The goals in mind are clear:
Reduce patient pain and discomfort
Reduce patient chairside time
Increase the number of patients seen per day and per annum
Increase revenues
Increase orthodontic treatment success rates
Decrease overhead costs
Decrease complications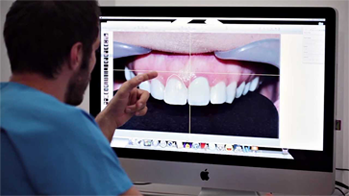 Increasingly, digital imaging technology and treatment planning software are helping realize these goals. With 3D digital imaging, the guesswork is taken out of properly placing, fitting and preparing for orthodontic treatment.
Digital Dentistry Seminars' one-day course focuses on detailed instruction in how to use the latest digital equipment safely and how to maximize best results. Designed for clinicians and staff, the comprehensive course is designed to give your staff the tools they need and confidence they require to greatly enhance their orthodontic treatment.
program lecture topics
Understand the use of computer-aided diagnosis and treatment planning with the _________ software.
Learn how to perform computer-guided treatment planning and the process and the protocol of fitting orthodontic brackets and wires.
Whether your patient is looking to correct crooked teeth, crowded teeth, uneven spacing, undesirable gaps, overbites, underbites, protruded teeth, lack of facial symmetry, headaches, TMJ symptoms and breathing problems, digital dentistry applied to orthodontics may be right for them!